NEW DIGITAL 'FACSIMILE' OF LEGENDARY DOVES TYPE
Doves Press Font Revived by Robert Green
Thomas James Cobden Sanderson, along with engraver Emery Walker, established the Doves Press in London at the turn of the 20th century. Commissioned in 1899 by Cobden-Sanderson and Walker, punchcutter Edward Prince's single-sized 16 pt type, used in all of the press's publications, was a key element of the Press's influence on modern book design.
In 1916, Cobden-Sanderson began to systematically destroy the entire type to prevent Walker from possessing his promised portion and the possibility of this leading to it being used on a mechanised press. By 1917, Cobden-Sanderson, having spent countless evenings clandestinely 'dedicating the type' to the River Thames, had thrown more than 2,600lb of metal over Hammersmith Bridge. Read more about the fascinating history behind this notorious typeface on our blog.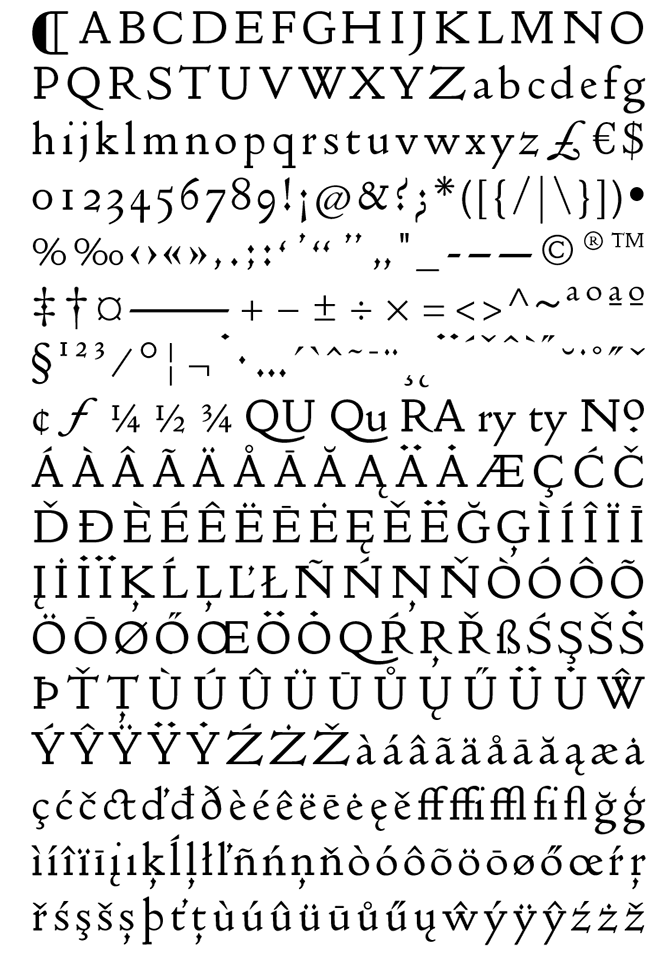 After three years research & drawing from original source material, Robert Green's digitised facsimile of the lost metal Doves Press Fount of Type, The Doves Type®, is now available to purchase. The updated Doves Type® Regular, released in January 2015, comes after the discovery in the Thames of a portion of the original metal type and replaces the initial Imprint weight which was first available back in 2013.
The new updated version of the Doves Type® contains some minor differences to the initial release. The most obvious one is in the new version's slightly heavier weight. This replicates a more representative overall page 'colour', gleaned from a wider range of sources. Doves books were, apparently, printed on damp paper and extensively proofed, whereas the page impressions of Doves Press ephemera are usually lighter and most likely printed dry.
The serifs have also been slightly adjusted. The Doves Press type was cut as a slab serif, though ink spread would give the corners of unsupported serifs a subtle 'cupping' appearance. This has been more successfully represented in the new version after several revisions.

Download a free Doves Type® PDF specimen (1.5MB).
The Doves Type® Regular single font comes in OpenType OTF format for Mac & PC desktop use, suitable for print and all high resolution applications. It is also available in web font formats for self hosted websites (up to 10K monthly pageviews on average).
Click below to select the licence option you require and purchase the font for immediate download.
Please note that if you require a licence for more than 5 desktop users/devices, or if you'd like to arrange a larger web licence, or a digital embedding licence (apps, eBooks etc) please email us for a quote to cover your needs.
VAT tax is only charged within the EU; orders placed outside the EU (e.g. USA) will automatically have VAT removed from their final transaction price. Buyers have the choice of paying via PayPal or with their own credit/debit card.